System Integrator 57 Systems becomes the newest PTS Partner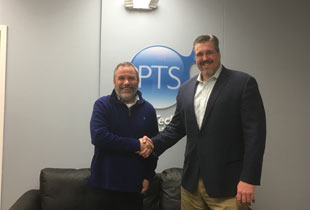 Calverton, NY: Portable Technology Solutions (PTS) is excited to announce its new partnership with 57 Systems. The combination of PTS' powerful RFID technology and 57 Systems' integration expertise will offer clients a complete RFID/barcoding solution that ties seamlessly to their existing technology and business processes.
Brad Horn, CEO at PTS:
"We're always looking for good partners that can provide our clients with added value. Having 57 Systems as an Integration Partner provides another excellent option for our customers."
Matt Ruhland, President at 57 Systems:
"We've been working with PTS for the last couple of years so becoming a preferred System Integrator for PTS technology, just made sense. Clients can have powerful yet easy-to-use RFID solutions and be able to have it successfully implemented into their existing operations. This saves money while building a better process."
Most recently PTS and 57 Systems partnered to help a university solve an inventory tracking need. By implementing RFID technology and integrating with its existing billing system, the university was able to:
Reduce inventory count time from 3-4 Days to what now take 2 hours
Improve inventory accuracies
Reduce billing cycles
Improve overall customer service for end users
About PTS: Portable Technology Solutions, LLC (PTS) is a leading provider of user configurable, mobile data collection software, barcode systems and RFID software. Through its market leading applications, TracerPlus and ClearStream RFID, PTS provides RFID and mobile solutions for any kind of organization, any type of system and any budget. More information can be found at www.tracerplus.com and www.clearstreamrfid.com
About 57 Systems: 57 Systems provides Application Development, Data Management, System Integration and Process Design. Organizations partner with 57 Systems to Create, Integrate and Manage Data. 57 Systems has Developed, Implemented and Integrated Data Management Solutions for all sizes and types of organizations. More information can be found at www.57systems.net