Description
TracerPlus Mobile Client
Custom Mobile Software Apps for any APPLICATION
TracerPlus provides the flexible, powerful, and easy to use mobile software platform for your Android and Windows Mobile barcode terminals, phones and enterprise class digital assistants. Whether it be asset tracking, warehouse inventory, mobile inspections, on-site repair service, or any other number of business operations, TracerPlus redefines how you track, move and manage your data.
Simplify your system: Convert your cumbersome paper and clipboard method to an efficient electronic and automated system that saves time, removes redundancy, and prevents costly errors.
Make the switch quickly and painlessly: In the past mobile development took weeks, even months to complete. With TracerPlus, your system can now be created in a fraction of the time and at a fraction of the cost. TracerPlus is available in both Standard and Professional editions, allowing you to deploy mobile applications with the features you need, on the mobile devices you prefer, and at the price you can afford.
Compatible Hardware
TracerPlus supports a wide variety of hardware, and mobile devices. This includes enterprise class barcode scanners, RFID readers, and consumer devices such as mobile phones and tables. TracerPlus goes beyond simply running on these devices as well, in many cases TracerPlus supports the integrated barcode, RFID and NFC readers build into the device. This opens up your development into enterprise grade mobile apps. We maintain a list of supported and tested devices below, but TracerPlusruns on most Android, iOS, and Windows Mobile/CE devices.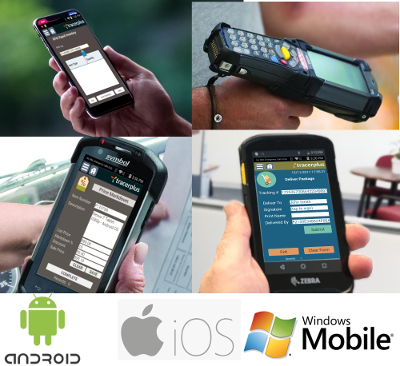 Features and Benefits
of TracerPlus mobile for Android, iOS, and Windows Mobile/CE
Create up to 32 fully customized forms per device. Each form can be used for a completely different purpose giving you the most flexibility for your enterprise app deployment.
Support Resources:
Need help getting started? Use the many free online resources we provide, or take a look at our premium support options to get started even faster.
Self-Help
Premium Support