Meet Oscar, PTS Junior AWS Cloud Engineer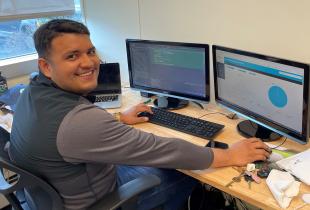 Oscar Icochea joined the Portable Technology Solutions team in March, 2020. Although many businesses were slowing or shutting down in response to the COVID pandemic, there was no lull in demand for PTS's cloud service. With more and more clients wanting the convenience and protection the service offers, CTO Dan Peluso saw that PTS would need people dedicated to scaling up PTS Cloud integration.
It was exactly the kind of challenge Oscar had been looking for. About his previous work as a PCS database administrator, he said, "I worked alongside developers and when I asked for added features, I didn't like to be told, 'We can't do that'. It made me want to learn how to do it myself." That desire led Oscar to a high-immersion course in software engineering and, eventually, to PTS.
"I saw it as a real opportunity to join and learn from an experienced team," he said. "And my primary focus on this team is to streamline the process of creating cloud environments for customers."
It's a job to which Oscar brings, in addition to his coding acumen, communication skills honed through his work in higher education. A native of Peru, where he lived until he moved to Long Island at the age of 11, he is also fluent in Spanish and English.
When he's not taking "deep dives" into PTS's products and other cloud environments, Oscar enjoys playing golf. In keeping with his philosophy of "If you want to make something better, learn how to do it yourself," he taught himself how to brew his own beer in college. And though he no longer pursues the hobby, he still enjoys sampling the offerings of Long Island's growing microbrewery scene.