Building Student Tracking Mobile RFID Solutions with Building Trades and TracerPlus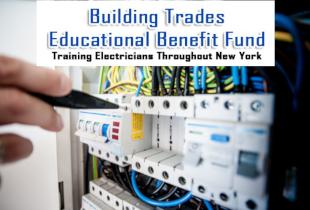 "The windows engine stuff is really, really easy to use. I feel like anyone can learn how to use it"
When you are in charge of a vocational school and you realize that your normal sign in/sign out procedure for tracking your hundreds of students is no longer up to par, what can you do? There are plenty of pre-made solutions but they don't always have exactly what you need.  Of course, a custom solution is an option but that can be cumbersome and expensive. How do you bring your paper setup into the future? If you are Assistant Director Paul Laccarrino from the Building Trades Educational Benefit Fund this is a very real problem. Thankfully he found the simple solution for his complex problem, TracerPlus & RFID with the Zebra TC56 and RFD8500.
"This is the only one that shined through, I was almost ready to give up until I found this" Paul said after discovering TracerPlus. The biggest problem they encountered when testing and trialing other solutions was finding a singular solution that catered to all of their needs; they were very particular due mostly to their unique environment. The issue being that they are not the owners of the building they operate in. Paul describes the environment as "very restrictive", with regulations on what can be done. Combined with the high volume of students that need to be tracked, they determined that RFID was the best solution for their problem.
After speaking to and working in conjunction with his account manager from PTS, Rocco Floccari, work on the project began in earnest. Together, Paul and PTS settled on an RFID solution that allowed Building Trades to configure a number of Zebra TC56 mobile devices paired with Zebra RFD 8500 sleds via Bluetooth. By utilizing a "remote portal" over cellular service to get the data transmission functioning, students are assigned RFID belt tags from Zebra to track them as they passed through the portal. The tags themselves are simple laminated PFC cards with belt tags inside, which are then subsequently picked up by the reader.
All of this was done almost exclusively by Paul himself with some help from the PTS technical support team. Paul stated that even with no development background he found the creation and implementation of the solution exceedingly easy, "The windows engine stuff is really, really easy to use. I feel like anyone can learn how to use it".
Even with restrictions on what they could and could not utilize in their RFID setup, Building Trades Educational Benefit Fund still managed to design and implement an effective and flexible RFID solution for a much lower price than a custom solution. Of course, it required a bit of elbow grease to get everything functioning the way they wanted, but with determination and assistance from PTS you can design the perfect solution for any need you may have.