How Does AER Manage Bumper-to-Chrysler Traffic? With TracerPlus, of Course.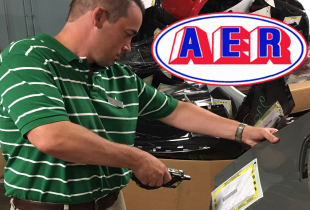 "It's really worked without a flaw."
Founded in the early 1940s, when World War II steel and iron rationing had Henry Ford looking for ways to keep the auto industry going and cars and trucks running at home, Texas-based AER—Authorized Engine Rebuilders—is one of the nation's foremost rebuilders and distributors of core components for Ford vehicles. When AER saw an opportunity to expand its business into bumpers for Chrysler vehicles, the people there knew they had to find a software solution for keeping track of thousands of transactions across the country.
Chrysler encourages return and subsequent green recycling of old and damaged Chrysler bumpers by essentially putting a deposit charge on each bumper. AER would be facilitating that process.
"Basically, we had a new piece of business and we had no idea how we were going to tackle it," says Steve Dewar, AER program manager.
For their work with Ford, AER had a piece of proprietary software that had been developed at considerable expense. For the Chrysler bumpers, they went in search of something similar in an easily customizable, off-the-shelf application. Chrysler has a unique identifier, a 10-digit number on a piece of paper they put on every bumper, and AER needed a way to scan, store, and easily retrieve these numbers.
As Dewar explains, "We were looking for an application where we could go to the dealer, have all the dealer's information pre-programmed so we can leave the dealer with a pre-populated, itemized receipt [for the bumpers], and then be able to come back and get that information into our DMS [Dealer Management System]."
With AER moving about 40,000 bumpers a month, Dewar says, "Nothing's impossible but we would've been doing it by hand. And I don't think going out and writing receipts by hand would've cut it."

AER found its solution with TracerPlus, which is made for tackling inventory problems of all kinds, and is simple to customize for the particular needs of any business.
"When we brought TracerPlus in, we were able to actually go out to the dealers, leave a receipt—the same way we did on the Ford program—and then we were able to export all those files into our DMS and then ultimately give those serial numbers to Chrysler so they could credit their dealers," says Dewar.
AER is now also using TracerPlus to facilitate similar business with Toyota and BMW.
"We'd been given the business but we didn't know how to do it and TracerPlus was the tool that allowed the whole program to run smoothly," Dewar sums up. "It has really worked without a flaw."
TracerPlus enabled AER to expand its business. Contact PTS to find out how TracerPlus and our other powerful barcode and RIFD applications for barcode can help your business grow.