Case Study: How Portable Technology Solutions and Zebra Technologies Helped a Not-For-Profit on Florida's Gulf Coast Grow to New Heights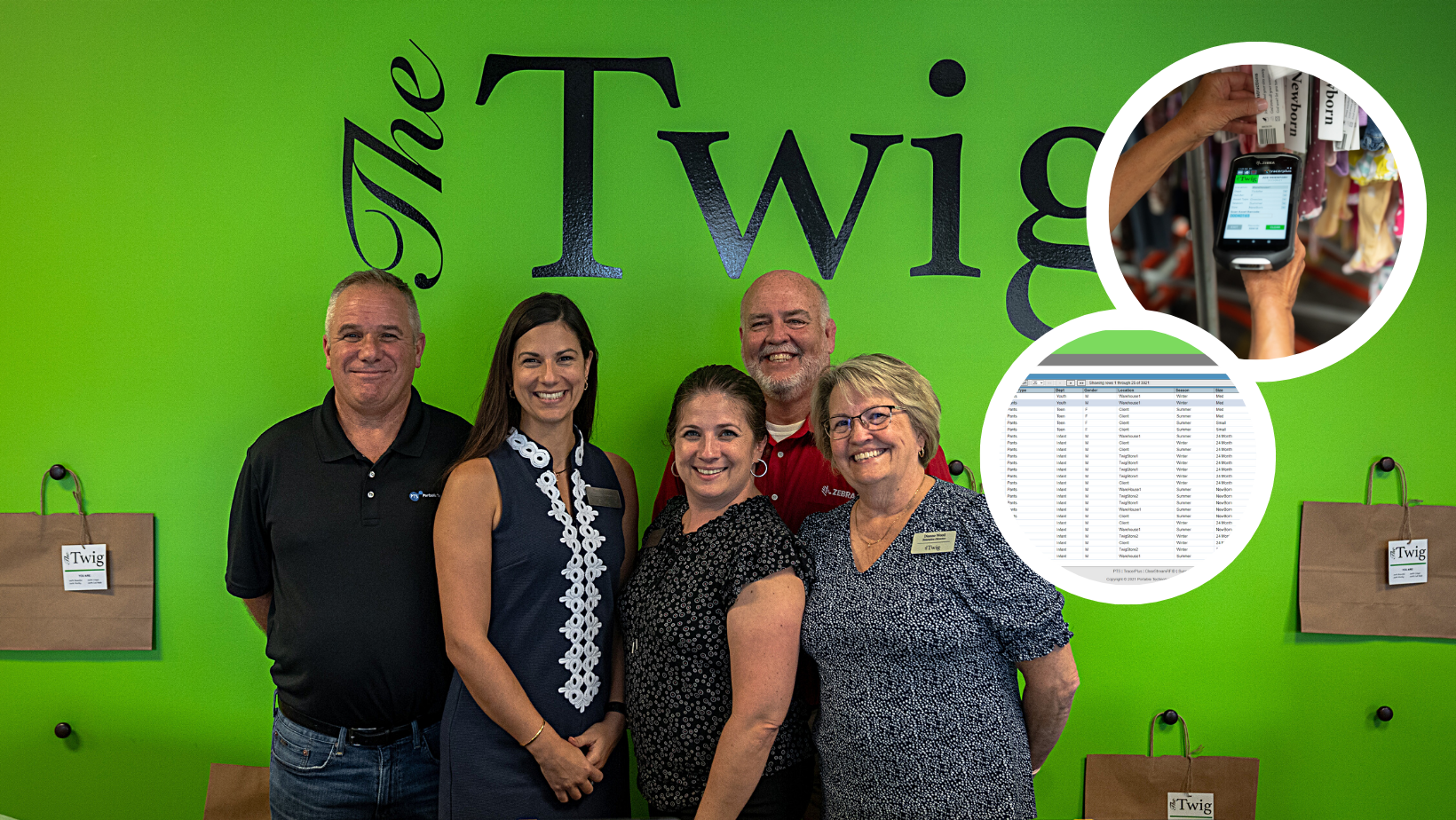 When PTS heard from The Twig, a not-for-profit on Florida's Gulf Coast, we were inspired by their mission to help kids in need—so much so that we teamed up with our hardware partner Zebra Technologies to give the Florida-based charity tools to help them do their important work.
The Twig has been empowering foster children since 2016 by providing them with a stylish clothes-shopping experience that is completely free of charge. This life-changing organization has its roots in the vision of Dianne Weed, a mother of four who adopted her youngest daughter out of the foster care system as a baby.
As The Twig's Director of Development Nicole Britton tells it, "When that baby turned into a teenager and she started buying her all those things you buy teenagers, she started to think:  What would her life be like if we didn't adopt her? If she was still in foster care, who would be buying these clothes for her? Who would be pouring love and encouragement into her life?"
Weed started looking into what was available for foster children and discovered that, while some organizations provided basic necessities, the options often fell short when it came to offering their young clients dignity.
Weed founded The Twig to provide foster kids with an experience that was more inspiring than rummaging through boxes of other people's leftovers—a place that, in Britton's words, "looked like a regular fun, bright, children's store but everything is free and it's only for kids in foster care."
The Challenges of Scaling Up the Vision
In its first month of operation, The Twig served eight children. Today, with strong community support, it serves over 400 children a month, from newborns to youth who have aged out of foster care, up to the age of 21.
Britton, who became The Twig's first full-time hire in 2017, describes the experience of growing out of The Twig's first location as "kiddos, strollers, foster parents everywhere." But shop space wasn't the only challenge The Twig faced as its mission flourished.
"We started with sorting and prepping our clothes in our store or in Diane's living room," adds Twig Marketing Director Shannon Campbell, who is also one of founder Dianne Weed's four daughters. Later, The Twig was given use of a 7,000-square-foot warehouse, where volunteers could sort clothes and prepare them for delivery to the two locations now maintained in Venice and Bradenton, Florida.
The Twig needs to divide inventory between these two locations and deliver items according to need. As Campbell puts it, "We might need a lot of toddler clothes this week in Venice, but they may need youth/boy clothes in Bradenton. We need a way to keep track of what we're low on in the stores, and what we have in the warehouse—so as we ask people for donations, we know what to request, we know what to send volunteers and staff shopping for, and how to get those items to both of those locations effectively and efficiently."
As The Twig grew, these needs became increasingly hard to deal with using the methods The Twig had used from the start. "We're very blessed to have a lot of volunteers," says Britton, "but we had them literally writing down our inventories in our stores on clipboards—counting how many shirts we had in different sizes, how many shirts, and so on, to see what we were low on."
Campbell emphasizes that "that was happening every week—every week we were writing it all down on pieces of paper!"
On the warehouse side, Britton describes how The Twig's volunteers and staff had to rely on visual guesswork—"Looks like we have plenty of 2T clothes; looks like we're very low on size-10 shoes…."
The Twig's old system was time-consuming, cumbersome, and imprecise. For a business, that's a problem; for a charity that's doing such important work, it impedes doing the vital work of empowering kids. Portable Technology Solutions knew that TracerPlus and the PTS Cloud could make things much easier, and help The Twig focus on its core mission.
TracerPlus Brings Precision to The Twig's Inventory
A couple of years ago, The Twig found a solution. On the way back from the NRF [National Retail Federation] convention, a couple of The Twig's employees had a chance encounter with a representative from Zebra. When the rep heard about The Twig's needs, they took the story back to Zebra, which was able to connect The Twig with PTS. As Britton describes it, it's "been a huge blessing to be able to connect with PTS and Zebra to solve our problems."
When PTS and Zebra learned more about The Twig's work and needs, we knew we could help. Zebra donated its ET40 Tablets with DS8178s attached for use in The Twig's retail locations, and TC57 Tablets for the warehouse—all loaded with TracerPlus software donated by PTS and configured in consultation with The Twig. PTS also donated the use of the PTS Cloud to support The Twig's database.
"It's great now to have a system that actually shows us, from the boutique, 'I know that we are low on 2T clothes—I wonder if we have any at the warehouse…'—and then we can just look on the database and see how much we have there," says Britton.
 "It also brings hard numbers to fundraising," she adds. "Now when I appear before a group that is going to do a collection for us, I have real, raw numbers. I can tell them exactly how many, for example, shoes we gave out in one month—and that, by holding a shoe collection, this is the gap you're filling for us."
"I can tell them an actual, for-sure amount—because I can see in our database how much is at the warehouse, how much is in Bradenton, how much is in Venice—and not just be guesstimating based on someone's 'look' at the inventory."
Giving and Getting Value
The reliable inventory data that The Twig now gets from TracerPlus has also helped it make better use of donated funds. "We work hard to get good value for our donors," Britton stresses.
The Twig uses shoppers to fill inevitable gaps between week-to-week needs and incoming clothing donations. Now, with the reliable data made possible with TracerPlus, those shoppers can take full advantage of discounts and sales they may encounter. "If they see something marked down," Britton says, "they no longer have to just rely on their memory of what was in the warehouse—they can take advantage of an opportunity when it arises."
It all comes down, Britton says, to "being able to see where needs are in real-time." And that helps The Twig help the foster kids at the heart of what they do, and be "good stewards for our donors."
The Twig says its mission is "to inspire and encourage foster families by meeting their needs." Portable Technology Solutions is proud to be working with Zebra Technologies to make that mission a little bit easier.