TracerPlus RFID Software puts Bike Lane in the Fast Lane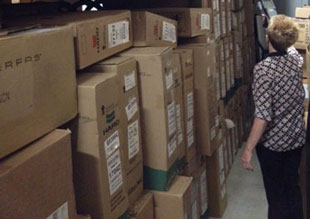 How PTS Mobile RFID Software has helped a premier Texas specialty retailer save space, time, and money.
Houston, TX: If you're in the greater Houston area and looking for a bike, bike gear, or anything cycling related, there's only one place to go: Shenandoah's Bike Lane. For more than 20 years, this family-owned business has put itself at the center of the local cycling community by knowing the sport inside and out and by taking the time to share that knowledge with folks who walk in the door.
Bike Lane puts its focus on bikes and customer service. But with hundreds of boxes to keep track of, three deliveries a day, and retail square footage at a premium, they need to keep inventory control in mind too. And that used to be a time-consuming challenge. "With 350 to 400 boxes stored on shelving, I would spend about 15 to 30 minutes locating a box, often walking the eight aisles twice and moving boxes around," said co-owner Herb Beimgraben, who founded Bike Lane in 1995 with his wife Jane.
That was time that could be better spent on sales and service. So Bike Lane began looking for a better way to manage inventory. "We needed a very simple system to utilize every space," said Beimgraben, "a system that our part time help could use without training, that would allow us to find each item quickly every time. Using conventional physical inventory location by aisle, level, bin number, etcetera, required too much maintenance and attention to detail."
Four years ago, Bike Lane found what it was looking for when the team there started using the TracerPlus RFID Tag Locator application, popularly known as the TracerPlus "<>Geiger Counter" for how it allows a user to home in on RFID tags. Running the Geiger Counter on a <>Zebra MC9190-Z mobile RFID scanner, Beimgraben quickly discovered that it wasn't just a time-saver—it was a space-saver too: "Now when we receive inventory we tag each box with a preprogrammed/printed tag and put the box wherever it fits, which lets us use any convenient empty location," he said. "Finding a box is a simple point-and-shoot operation – the varying beep of the Geiger Counter narrows in very quickly on the box. During our busy 'preseason' we get a lot of overflow inventory that we stack in the aisles, one box in front of another – and now there's no problem locating the 'hidden' boxes."
How much of a difference has the TracerPlus Geiger Counter made for Bike Lane? "It's extremely useful in our daily operation," said Beimgraben. "We could not live without it!"
For any business, time and space are key considerations. TracerPlus can save both—which means saving money. Bike Lane's Herb Beimgraben couldn't agree more. As he puts it, "Using the TracerPlus RFID application has been one of the most cost-efficient decisions we've made since opening our business 22 years ago."