TracerPlus Validated on the Motorola MT2000 Terminal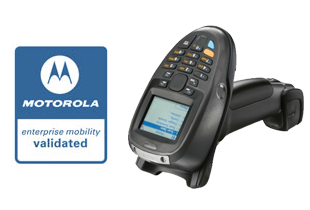 TracerPlus is first validated mobile data collection solution for the new Motorola MT2000 series of mobile terminals
Calverton, NY: Portable Technology Solutions today announced its TracerPlus mobile data collection solution successfully achieved Enterprise Mobility validation through completing Motorola's Enterprise Mobility Validated Solution Program that includes joint testing at the Motorola Solution Center located in Holtsville, New York. TracerPlus provides customizable enterprise class mobile data collection and integration solutions designed to mesh with existing data systems thus easing the path to incorporating mobility. Portable Technology Solutions was granted the Enterprise Mobility Validated™ Software logo through Motorola's Solutions Validation Program. This designation will help assure customers and partners of system interoperability between the MT2000 series of mobile terminals and Portable Technology Solutions' TracerPlus software.
The suite of TracerPlus mobile data collection software is designed to enable users to create and customize enterprise class mobile solutions without the need for programming experience. The TracerPlus mobile client can be configured for a variety of different uses, including, but not limited to, inventory control, work in process, mobile inspections, asset management, and event tracking. Configuration and administration is generally managed through the free TracerPlus Desktop design and deployment tool. TracerPlus is also designed to integrate directly into existing ODBC compliant databases, lowering the cost of mobilizing database systems as well as simplifying the process. Data transfer can be accomplished in either batch or real-time wireless environments.
"From our first experience with the MT 2000 series of mobile terminals, we knew the device would be a strategic fit for TracerPlus software" said Erik Hornung, Portable Technology Solutions' Marketing Director. "The affordability and ruggedness of these mobile terminals is exactly what our customers have been asking for and by completing the co-validation process with Motorola we are giving them peace of mind for the complete solution."
Motorola's Enterprise Mobility Validated Solutions Program enables partners to test and validate their mobility solutions on Motorola products to help ensure interoperability and meet the customer application-specific needs, as well as reduce both the risk level and the time to deployment for the customer. Working closely with engineering teams, TracerPlus has been tested and co-validated on select products, including the MT2070, MT2090, MC50, MC70, MC3000, and MC9090 mobile computers.
The terms of the validation, including disclaimers, are set forth in the Test Agreement between Motorola and Portable Technology Solutions and the Enterprise Mobility Validated Test Report.