MCA Tile Raises the Roof on RFID ROI with TracerPlus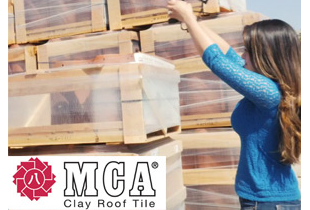 In its sunny California location, MCA Tile blends old world wisdom with modern technology to produce a broad array of exquisite roofing tile. Their inventory spreads across eight acres which created a growing problem for inventory control.
Using a manual method of scanning barcodes, it took the MCA Tile crew of eight people about three days to do a full count of all the inventory on the lot. With older inventory that had been sitting for months or years, labels had faded or fallen off, making it impossible to count.
"It was a tedious process, and not a very accurate one. And we couldn't get real-time data on our inventory," says Linda Hanson, CFO, "We heard About RFID but never could afford to purchase a system that fit our needs until we found TracerPlus."
MCA Tile partnered with Portable Technology Solutions to find a better way to manage their massive inventory. "With the amount of inventory area MCA Tile had to cover, and the difficulty in reaching the barcodes when you lose line of sight, it was easy to see that they would benefit from an RFID solution," says Joe Kraebel, Mobile Solutions Architect at Portable Technology Solutions.
Using TracerPlus's mobile printing functionally and easy to use custom forms they generated the fifty thousand RFID tags needed for MCA Tile's pallets. At the same time they used TracerPlus mobile forms to scan and correct their inventory with RFID scanning at the same time! MCA chose the Zebra MC9190-Z RFID reader, which is designed for medium- to long-range RFID applications and Zebra's passive RFID printer which gave them the ability to print and encode smart labels on demand.
"We started deployment of the RFID solution in November 2014 and did our first major inventory about two months later. Now, one person can do a complete inventory in four hours, when it used to take eight people three days!" says Hanson, "I think one of the biggest benefits of working with Portable Technology Solutions was their accessibility. The support has been great. Whenever I've had a question, they've been readily available, and solved any problem right away. And the quality of the Zebra reader, printer, and RFID labels has exceeded our expectations."
If your business needs better inventory control, consider the long-term value of RFID. Portable Technology Solutions can develop, deploy, and service a custom RFID solution. Let us open up the possibilities for you. If you'd like to learn more, drop us a line at 877-640-4152 or send us an email.