TracerPlus Achieves Motorola Mobility Validation ES400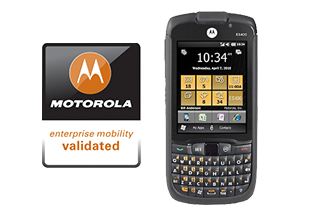 TracerPlus develops ES400 specific Inventory and Delivery Apps for North American and Latin American Markets
Calverton, NY: Portable Technology Solutions today announced its TracerPlus mobile data collection solution successfully achieved Enterprise Mobility validation through completing Motorola's Enterprise Mobility Validated Solution Program that includes joint testing at the Motorola Solution Center located in Holtsville, New York. TracerPlus provides customizable enterprise class mobile data collection and integration solutions designed to mesh with existing data systems thus easing the path to incorporating mobility. Portable Technology Solutions was granted the Enterprise Mobility Validated™ Software logo through Motorola's Solutions Validation Program. This designation will help assure customers and partners of system interoperability between the ES400 Enterprise Digital Assistant and Portable Technology Solutions' TracerPlus software.
The suite of TracerPlus mobile data collection software is designed to enable users to create and customize enterprise class mobile solutions without the need for programming experience. The TracerPlus mobile client can be configured for a variety of different uses, including, but not limited to, inventory control, work in process, mobile inspections, asset management, and event tracking.
In the case of the ES400, specific inventory and delivery applications were created to take advantage of the specific advantages of the mobile device. The ES400 Easy Inventory and Delivery App is available as a two-in-one installer file and has been created in English, Spanish, and Portuguese. Trial downloads are available here.
"The release of TracerPlus Easy Apps into Latin America for the ES400 is very exciting for us, we feel that the pairing of our software and the new Motorola ES400 shows a great deal of promise." said Erik Hornung, Portable Technology Solutions' Marketing Director. "We feel that the flexibility of TracerPlus, combined with the accessibility of the ES400 itself will be attractive to businesses who have not previously considered mobile solutions."
Motorola's Enterprise Mobility Validated Solutions Program enables partners to test and validate their mobility solutions on Motorola products to help ensure interoperability and meet the customer application-specific needs, as well as reduce both the risk level and the time to deployment for the customer. Working closely with engineering teams, TracerPlus has been tested and co-validated on select products, including the MT2070, MT2090, MC50, MC70, MC3000, and MC9090 mobile computers.
The terms of the validation, including disclaimers, are set forth in the Test Agreement between Motorola and Portable Technology Solutions and the Enterprise Mobility Validated Test Report.