For Cammell's Honey, TracerPlus is the Bee's Knees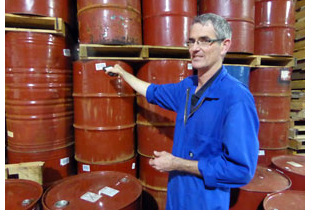 Between their own hives and the stock they buy from other producers, Cammell's Honey, a New Zealand-based apiarist and merchant, has a lot of honey to keep track of. And not just honey but also the unique UMF Active Manuka honey they sell, produced from the nectar of the Manuka flower that is native to New Zealand. They knew they needed a scanner solution for their specialized inventory needs.
Before TracerPlus…
At first, says Lee McLean, Accountant at Cammell's, "We used a DOS-based scanner that exported to MS Access through a number of cumbersome, manual data-conversion steps. Programming it was quite difficult, as we were not experienced enough in that field." They needed a more flexible program that they could develop themselves and change to their specific requirements as needs arose.
"We could have employed a program developer," says McLean, "but we saw that as a huge cost for our business and one that would continue for years during the changing demands of tracking honey from the paddock hive to the consumer shelf."
Enter TracerPlus…
After searching the Internet for solutions, says McLean, "we came across the excellent TracerPlus website." The folks at Cammell's downloaded the free TracerPlus Desktop and tinkered around with it, watched webinars, and came away "very impressed with how flexible and easy it was to program compared to our previous arrangement."
"With the help of Kristin Comeau at Portable Technology Solutions, we went ahead and purchased TracerPlus Connect and set up the hardware and software. When we needed help we found the email support to be excellent."
After TracerPlus…
Now that TracerPlus is in everyday use, "the guy at the factory who uses the scanner to process the inwards stock is very happy with the flexibility he has with processing." TracerPlus has enabled Cammell's to synchronise scanner output to their MS Access database, "giving us enormous flexibility with the input/output data." And taking inventory is now a lot faster, "compared to the old days."
Looking ahead, Cammell's sees additional ways that TracerPlus can help their business, with the PTS website's webinars and videos providing ideas for such enhancements as printing inwards goods receipts, RFID, and delivered goods signatures.
TracerPlus can save your business time and money too. If you'd like to learn more, or if you have your own "Before PTS" story, drop us a line at 877-640-4152 or send us an email.